Measuring Your Matboards
The biggest challenge customers face when ordering their matboards is getting the right size matboards to match their artwork. Custom matting requires precise measurements, the most important dimensions are the outside size and opening size. A 2 to 3″ border is typical for most art work but it can vary. Always consider that standard outer sizes makes it much easier for you or your customers to find inexpensive frames. Matboard and More® can cut to any opening and outer size for no extra charge.
Follow These Steps to Get the Right Dimensions
Artwork Size :

measure the visual area of the artwork you want to mat. For example 11×14″.

Opening Size :

subtract 1/2″ from the artwork size. For example, (11-1/2) x (14-1/2), 10 1/2″ x 13 1/2″ for the opening size.

Outer Size :

do you already have a frame?

YES :

measure the outside of the glass in the frame to get your outer size.

NO :

if possible, select an outer size that is standard (11×14″,16×20″,18×24″ etc.), as it will be much easier to get a frame. For example, 11×14″ artwork would work well with a 16×20″ frame, 8×10″ artwork with 11×14″ frame etc.

Margins :

you may not want a piece that is centered, and may instead prefer a bottom weighted mat. You can request bottom weighting or top center which looks great, especially for 8×10 photos in 11×14" frames, or 11×14" photos in 16×20" frames.

Double Mat Reveal :

the process for a double mat is the exact same, except there is another dimension called the reveal to consider. The reveal determines how much of the bottom layer of matting shows. It is typically 1/4″, but can be any size you prefer.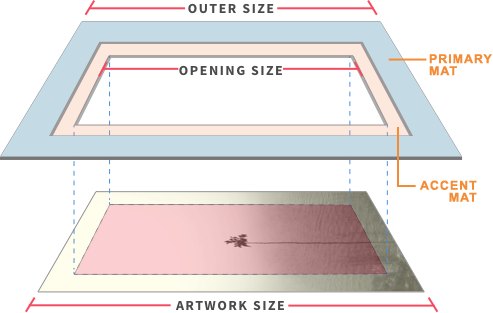 Using off-sets to get a beautiful bottom weighted matboard
Also, don't forget that it's not always necessary to center your art. 8×10″ art is very commonly put in 11×14″ matting and either has larger vertical margins or is bottom weighted so that it is centered at the of the mat. Both are usually free of charge options!